PT1 (registration F-ZWTH and MMX-612) : 1st flight on 18 December 1995 - 365 flight hours
Version : TTH
This helicopter currently any more does not fly. It was used - inter alia - for the basic tests of vibrations, motorizations, quality of flight, gear-box, etc...
At the time of the Paris Air Show 2001, it was used as helicopter of exposure (static presentation).

1st flight with RTM322 motorization : 18 December 1995 in Marignane (France) at 4 p.m. (and for 40 minutes).
Crew :
- Pilots : Philippe BOUTRY and Guy DABADIE (chief pilot)
- Flight Test Engineer : Denis TRIVIER
- Flight Test Mechanic : Jean-Claude RABANY
1st flight with GE-T700 motorization : 13 March 1998 in Cascina Costa (Italy)
Crew :
- Pilots : Fabio FRISI and Carlo TONDI
- Engineer : Marco MONTORFANO
PT2 (registration F-ZWTI) : 1st flight on 19 Mars 1997 - 300 flight hours
Version : NFH
This prototype opened the flight envelope of the electric drives, as well as the automatic retraction of the beam of tail and the blades. It also was used for the development "export", in particular for the Scandinavian countries.

1st flight : 19 March 1997 in Marignane (France) at 6:15 p.m. (and for 30 minutes).
Crew :
- Pilot : Philippe BOUTRY
- Flight Test Engineer : Denis TRIVIER
- Flight Test Mechanic : Jean-Claude RABANY

WORLD FIRST : 1st flight with with the Fly-By-Wire Primary Control System (PFCS) : 02 July 1997 (at 5:30 p.m. and for 20 minutes)
PT3 (registration F-ZWTJ) : 1st flight on 27 November 1998 - up to 220 flight hours
Version : TTH
Very equipped NH90 version (in version TTH). This prototype was used, inter alia, for the countryside hot time and the opening of the flight envelope to the maximum weight of 10,6 tons. In September 2002, this helicopter began the first phase of maturity for the "electric orders of flight". At the end of 2002, it started a second phase of tests with suppression of the mechanical help.


1st flight : 27 November 1998 in Marignane (France)
Crew :
- Pilot : Philippe BOUTRY
- Engineers : Denis TRIVIER and Jean-Claude RABANY
WORLD FIRST (EUROPEAN FIRST !?) : 12 December 2003 in Marignane
The NH90 PT3 successfully flies with full Fly-by-Wire (without mechanical back-up).
The trial started at 10.30 a.m. during 50 minutes, the NH90 was flown by:
  - Philippe Boutry, experimental test pilot,
  - Denis Trivier, flight test engineer, and
  - Jean-Claude Rabany, flight engineer.  
PT4 (registration 98 + 90): 1st flight on 31 May 1999 - about 150 flight hours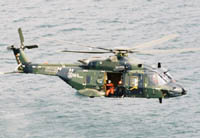 Version : TTH
Used for the developemnt of the TTH missions.


1st flight : 31 May 1999 in Ottobrunn (Germany)
Crew :
- Pilots : Herbert GRASER and Andrew WARNER
- Engineer : Denis HAMEL
PT5 (registration MMX-613) : 1st flight on 22 December 1999 - up to 60 flight hours
Version : NFH
Objective of qualification of the system of mission NFH.


1st flight : 22 December 1999 in Cascina Costa (Italy)
Crew :
- Pilot : Carlo TONDI
- Engineers : Marco MONTORFANO and Stefano ROGNONI